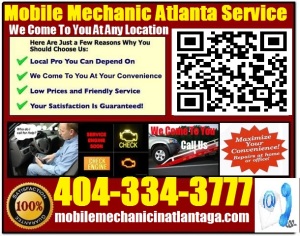 Mobile Mechanic Kennesaw Georgia Auto Repair Service garage shop that comes to you to fix your foreign car Call 404-334-3777 for Pre purchase vehicle inspection review at home near m. It might sound strange, but it seems as if cars have the ability to think. If you do not take care of them, they take revenge by malfunctioning when you need them the most. Imagine the scenario when you have to rush for an urgent meeting with your boss of your Kennesaw GA based office, and the ignition of your recently purchased second hand imported car starts malfunctioning. You have committed a huge mistake by not seeking the help of a professional to pre inspect the foreign make vehicle for flaws before purchasing it. You would not have faced this problem had you sought the help of our pre purchase car Inspection Kennesaw specialists buy my house georgia .
Do not worry
Although it is too late for you to return the car to the dealer you purchased it from, you can contact our experienced car technicians who are renowned for their expertise and professionalism in foreign auto repair Kennesaw Georgia. They have extensive knowledge about the mechanisms of all cars, including most foreign made vehicles. They shall examine your car, find the defective part, and replace it with original spares. We offer a warranty on all replacements and replace them without charging you if they break down during the duration of the warranty.
We are available round the clock
As we are available round the clock, you can depend on us to send skilled mechanics to your place irrespective of the day and the time. Our mobile mechanic Kennesaw Georgia are renowned for their fast turnaround. Perhaps, this is the reason that once someone uses our services, they always return to us whenever they face problems with their vehicles. Give us a call today and explain the problem to our mechanics along with the make and model of your car. Our technicians shall ensure that you do not miss the urgent meeting by fixing your vehicle in double quick time.
MobileMechanicinAtlantaga Auto Car Repair Service Tech
Kennesaw, 30144, 30152, 30156, 30160, 31144 , cobb county https://local.dmv.org/georgia/cobb-county/kennesaw/dmv-office-locations.php

Top Things to do in Kennesaw GA attractions
Mobile Mechanic In Atlanta GA Auto Car Repair & Pre Purchase Vehicle Inspection Near Me
Contact Us
Mobile Mechanic In Atlanta GA
Atlanta, GA 30308
M-Sun 8AM-7PM
404-334-3777
https://goo.gl/maps/jRpcqUUcxzA2kykKA
Contact Info:
Boracina Cash Home and Land Buyer Of Atlanta Georgia
Atlanta, GA 30311
404-476-6200
https://goo.gl/maps/gWYLVNQLZRDn5RNE6
https://boracina.com/georgia/we-buy-houses-atlanta-ga/
Location we serve as the best Travel Automotive Car repair and maintenance near me in Kennesaw, 30144, 30152, 30156, 30160, cobb County, GA
[rkfrt-neighborhoods title="Kennesaw" location="Kennesaw" limit="12″ sort="desc"]
[rkfrt-activities title="Things To Do in Kennesaw, Georgia" location="Kennesaw" limit="12″ sort="desc"]
[rkfrt-map title="" location="Kennesaw" zoom="8″ neighborhood="true" activities="true"]